The WordPress News Plugin is an easy-to-use plugin, but does require a few steps before getting started. Below we have listed a guide, but after activation the plugin will create a new top-level menu complete with a tabbed dashboard where you will find a step-by-step guide to setting up your plugin.
UPDATE: The Installation Guide for WordPress News Plugin v3.0 can be found here in our Knowledge Base. Please refer to that guide instead.
Installation and Activation
You will receive a zip file after you purchase the plugin, as well as an auto-generated license key. Do not lose this key, but if you do, we can locate it for you via the email used at checkout.
Install the plugin like you always install plugins, either by uploading it via FTP or by using the "Add Plugin" function in WordPress admin.
When activation is complete, navigate to the new top-level menu located just under "Posts" in the left-hand WordPress menu. Click on "Licenses" before anything else. Enter your unique license and click "Activate License" before "Save Changes" on the License Manager page.
Please Note: You MUST activate your license before gaining access to updates, support and complete plugin functionality. As shown below, the status of the license will read "active" in green when you have correctly followed the instructions. Now, with the license activation triggering the News Sitemap Generator and Editors' Picks Generator, you are ready to set up global settings!

General Instructions Dashboard
Navigate to the "Dashboard" tab either via tabs or top-level menu subcategory links.
Click on the link, and read ALL of the "General Instructions" before reading the "Sitemap Instructions" for the WordPress Premium Google News Plugin.
After you have set the global settings, you can return to this page to submit your feeds to Google.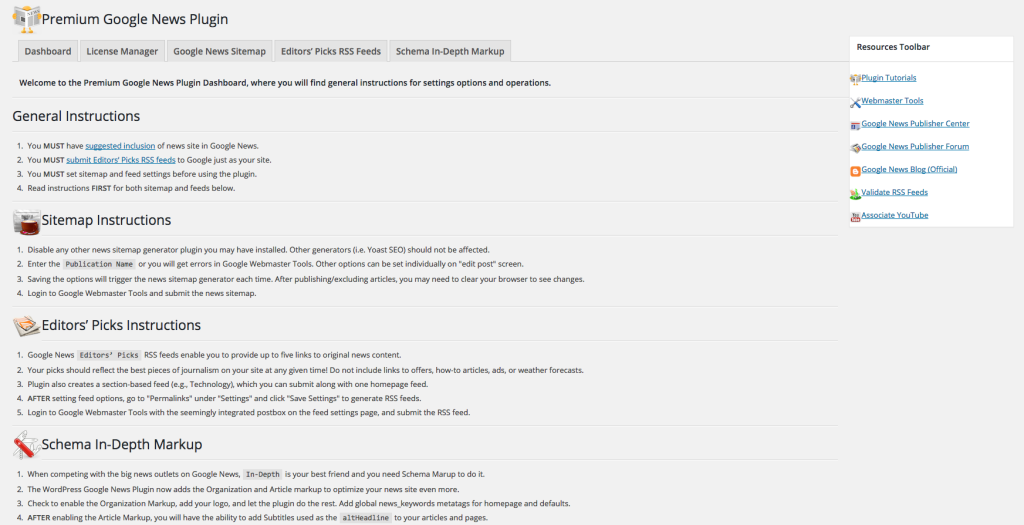 Premium WordPress Google News Plugin Helper
In each plugin related function, whether on meta boxes or admin pages, question mark icons are always present to help guide you through the process of using the plugin. Since all links — if present — are all set to target="_blank" in the plugin code, links will not redirect you away from WordPress, but rather open resources in another browser tab.

In the custom meta boxes, you'll notice a small icon , which guides users when filling in each field on each tab. They are powered by a powerful jQuery tooltip that enabled us to offer links and resources to make your life easier.